Rayong is located in the east coast of Thailand on the northern shoreline of the Gulf of Thailand, about 220 kilometers from Bangkok on Highway No. 3 or 179 kilometers on Highway No. 7 with its short-cut. Rayong

blessed with its abundance of nature beauty. It has a well deserved reputation for producing seafood products such as shrimp paste, fish sauce and dried seafoods, and fine tropical fruits of which rambutan, mangosteen and durian are the most famous. Nearby beaches are fair and Ko Samet is a favorite island getaway for Bangkok resident. Except for Ko Samet this area receive very little foreigners.

The King Taksin Shrine located at Wat Lum Mahachai Chumphon commemorates the occasion when he was rallying Thai fighters to liberate the country from Burmese occupation. It is highly revered by the people, particularly those of Chinese ancestry, and draws large worshipping crowds during the Chinese New Year celebrations. A large reclining Buddha, measuring 11.95 meters long and 3.60 meters high, is located in the main chapel of Wat Pa Pradu. The image reclines on its left instead of the traditional right.
The Phra Buddha Angkhirot
The principal Buddha image of Rayong, is enshrined in a Thai-style pavilion at Suan Si Muang located behind the city hall. About 4 kilometers south of town center along Taksin Maharat Road is the Phra Chedi Klang Nam a pagoda erected on an islet of the Royong River. It is not known who constructed the pagoda, although it has been there for countless years. The pagoda itself is about 10 meters tall. An annual festival to celebrate the Phra Chedi Klang Nam is held in November, with boat races and other folk plays and performances.

The Rayong City Pillar

Highly respected by town people, is located at the Lak Muang Road. Originally the shrine housing the pillar was made of wood but subsequently reconstructed in brick and mortar.
Sri Muang Park
The park is located in the centre of town behind the city hall. The most prominent feature is a Buddhist Shrine called Ho Phra Budda Ang Khee Rot which is built over an artificial lake, and in Traditional Thai architectural style.
The King Taksin Shrine
The shrine is located of Wat Lum Mahachai Chumpon which commemorates King Taksin theGreat's brief sojourn in Rayong. In front of the shrine is a large tree of the genus Parkia, where according to local legend, his elephant was believed to be stabled. It is highly revered by the people, particularly those of Chinese ancestry, and attracts large crowds during Chinese New year celebrations.
Hat Laem Charoen & Hat Sang Chan
Two beaches connected as a long line beach and is located 5 kms. away from town to the south. Several seafood restaurants can be found along Hat Laem Charoen and there are bungalows scattered on Hat Sang Chan.
Rayong Fruit Fair
This fair is heled during May or June at Ampnoe Muang and Amphoe Klaeng. Rayong is famous for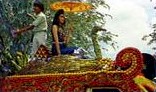 its lush fruits orchards, producing some of the country's best pomelo, jackfruit, rambutan, and durian. All will be on sale at this fair, as well as the shrimp paste and fish sauce for which the province is noted and a wide variety
of local handicrafts.
New Year and Red Cross Fair
This fair is held from December 28 until January 3 with a board range of entertainment spectacles and special exhibitions of government and private agencies.